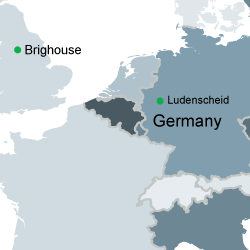 This is a beautiful town of about 100,000 people. It is set high in the hills of the Sauerland region of Nord-Rhine Westphalia (40km south of Dortmund).
It is surrounded by steep and thickly wooded valleys and many lakes/reservoirs. A growing economy based on high-tech light industry has led to its quick growth in the last 20 years.
The modern town centre now surrounds the well-preserved "Old Town".
There are pedestrian precincts and tunnels for through traffic affording relaxed shopping conditions.
Residential areas spread out to the edge of the forest. It is truly a delightful place to live.
Websites
Stadt Lüdenscheid. This site has a wealth of details about Lüdenscheid.
Brighouse - Ludenscheid Twinning Society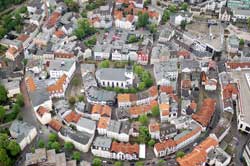 The link between Brighouse and Lüdenscheid was founded as long ago as 1950.
This was by the Brighouse Children's Theatre, which exchanged visits with a similar group in Lüdenscheid.
Sporadic exchanges over the next few years led to the formation in 1962 of the Twin-Link Societies. (The Brighouse - Lüdenscheid Society in Brighouse and the Lüdenscheid - Brighouse Gesellschaft in Lüdenscheid.)
The link was strengthened by the civic twinning charter, signed in 1960. Since then, Brighouse has become part of Calderdale and Lüdenscheid the capital town of the Markischer Kreis. The civic charter between Calderdale and Lüdenscheid was signed in 1983. Enthusiasm by civic dignitaries for this link over recent years has led to the present warm civic relationship.
The Society aims to develop friendship, understanding and cultural awareness between people in Brighouse and Lüdenscheid. Annual visits to and from our host families in Lüdenscheid are supported by quarterly meetings and fundraising social events.
The societies take part in exchanges in alternate years and try to include social, cultural and vaguely sporty events.
The last time that Brighouse was host to German visitors.
It began with a welcome 'Race Meeting' with pie and a pea supper.
There was a tour of Halifax Minster and worship there.
A trip to historic Beamish and a fish and chip supper after.
A Civic welcome at the Smith Library.
A visit to a local brewery.
The 'farewell' event was held at Lightcliffe Golf Club with musical entertainment and a carvery buffet.
There was also plenty of free time for the visitors and their hosts can do their own thing.
In September 2013, some members of the society were guests of the city of Ludenscheid at their Stadtfest. During that visit:
A trips to:

Essen (then the European Capital of culture).
A science museum.
A coffee roastery.

There was a lake and forest walk.
A German Kegelbahn (ten-pin bowling) tournament.
Social gatherings.
Get involved
New members of all ages are very welcome. Though a bonus, it is not necessary to be able to speak German.
Contact
Kaaren Raistrick
Telephone: 01274 776186
Chris Redfearn
Telephone: 01422 206335