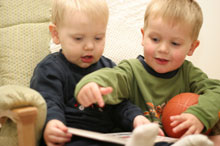 Early years education and childcare, health services and family support in your local community.
They are friendly and offer services to help families to:
Be healthy.
Stay safe.
Enjoy and achieve.
Make a positive contribution.
Achieve economic well-being.
They are a link to other day care provision and childminder networks. They also have links with local training and education providers, Jobcentre Plus and the Early Years Learning and Childcare teams.
These services are delivered for us by:
We work closely with NHP, HOT and all staff that offer Children's Centre and Family Support service in Calderdale.
Our vision is that all children in Calderdale are happy, healthy, safe and successful. Also, that the borough is child-friendly and all children will:
Start healthy and stay healthy.
Be safe at home, in school and in the community.
Enjoy learning and achieve their best.
Develop social skills and take part in activities.
Family Support work with children 0-19 year (25 years with a disability). They work with local midwives, GPs, health visitors, nurseries and community groups to make sure families get the right support. They offer early year's education and childcare, health services and family support.
Contact
Jeanette Stansfield
Senior Commissioning Officer
Telephone: 0770 2656685 (mobile)