The "dam" fine reservoir builder of Brighouse
On the 30th May 1810, John Frederick Bateman was born at Lower Wyke. His mother was the daughter of a Moravian missionary and John spent his childhood living on a Moravian settlement. At 15, he was an apprentice with a firm of mining engineers in Manchester.
John became a successful engineer and travelled widely, visiting South America and Egypt. He designed the waterworks for the cities of Glasgow, Dublin and Belfast. Often he completed designs and surveys at his own expense.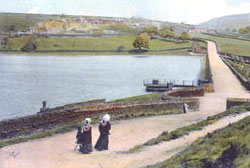 In 1851, the population of Halifax was growing and the need for a reliable water supply was getting more important. The Council called on Bateman to prepare a scheme to supply water to the town. His idea was to build reservoirs on the moors above the town, using gravity to bring water to the houses.
Ogden Water reservoir was the first to be built. The stone laying ceremony took place on the 11th August 1854. A large crowd watched the Mayor's procession to the ceremony. The keystone on the arch of the culvert featured the town's coat of arms. More reservoirs followed, including Widdop, Fly Flatts, Dean Head, Ramsden Wood, Albert and Mixenden. His travels abroad, especially to Egypt, influenced his design work.
John was elected a Fellow of the Royal Society. He represented the society at the opening of the Suez Canal in 1869. He was in demand as a speaker and wrote on subjects like the Manchester water supply and drainage of Oxford.
Bateman became a very wealthy man. He bought the Moor Park estate at Farnham in Surrey. Six years before his death, John took the prefix of 'La Trobe' to his name, a well renowned American family. This was as a compliment to his maternal grandfather Benjamin. John always remembered the education he got from the Moravians.
John Bateman died on the June 10th 1889. Over 100 years later, many of the reservoirs still remain. They are a favourite haunt for local ramblers and visitors alike.
If you are a Calderdale library member, or using a Calderdale library, why not find out about other figures by searching the Oxford Dictionary of National Biography.
Simply enter a person's name or a place in the search box. (Note that a search for Halifax is best expressed as Halifax, Yorkshire.) If the Library Card Login box appears, enter the word "calderdale", then your library card number.