Let's Clear The Air: improving air quality in Calderdale
Improving the environment in Calderdale is a priority for this Council. It is fundamental to our Vision 2024 ambition of the place we want to be in the future.
We launched the Let's Clear The Air campaign to promote the work we are doing to:
Protect our distinctive environment.
Raise awareness of the issues and dangers.
Help people to be healthier.
Make sure our streets are pleasant places to live, work, play and visit.
We cannot solve the air quality issue alone, everyone has a role to play. With Let's Clear The Air we are asking residents to take action of their own. This includes more sustainable travel choices, where possible.
In January 2019, we declared a climate emergency. Also, we have recently updated our Air Quality Action Plan that shows how we are tackling air pollution.
We encourage people to travel in active ways, like walking or cycling, as much as possible. This is because it is great for our health and the environment.
We have cut down on our car business mileage by 500,000 miles per year since 2010. This has led to a significant reduction in air pollution and Green House Gas emissions.
When travelling by car, we encourage people to use electric vehicles. We have successfully applied for funding to install more recharging facilities across Calderdale to boost uptake. Recharging infrastructure is now routinely required for new developments as part of our planning process. Some Council vehicles are electric and we plan to increase the amount in our transport fleet in the future.
Other ways we are aiming to improve air quality include:
Major road schemes to support active travel.
The Council promotes staff cycling through electric bikes for use on work-related journeys.
Working with schools through cycle training and testing a green screen to absorb pollutants.
We have taken leaps forward in recent years. Some of the things we have achieved:
Cut our CO2 emissions by 35% and the whole borough's by 26%.
Reduced our use of paper by one third.
Brought in multi-material waste recycling across our sites.
Doubled our waste recycling rate to 50% (well above the national average).
The first council in the UK to create a borough-wide household food waste recovery service.
Innovative joint schemes are helping to make good progress, such as:
Calderdale Community Energy.
The 6C Energy partnership to help businesses save energy.
White Rose Energy.
Better Homes Yorkshire.
Affordable Warmth Fund to help people heat their homes efficiently.
Our Air quality dashboard shows readings from the air quality monitoring stations at Salterhebble, Market Street, Hebden Bridge and Wharf Street, Sowerby Bridge: Air Quality Dashboard
Local monitoring
We monitor air quality in the Borough. It is our responsibility under the local air quality management legislation and guidance. We have been doing this for over ten years. We also investigate complaints about air pollution from factories or in Smoke Control Areas.
The Environment Act 1995, states eight pollutants that councils must consider as part of a national Air Quality Strategy. These include nitrogen dioxide and fine particles (PM10).
At the moment, we focus our monitoring on traffic-related nitrogen dioxide. This has been identified as exceeding the air quality objectives in seven areas. These areas have been designated as Air Quality Management Areas (AQMAs). Particulate matter is also being monitored in connection with road traffic emissions and public health.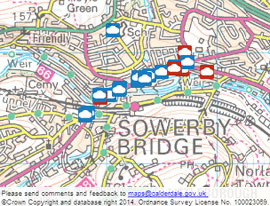 Most of our nitrogen dioxide monitoring is done using diffusion tubes. There are also three automatic monitoring sites at:
Salterhebble;
Sowerby Bridge;
Hebden Bridge.
In 2015, the Council installed particulate monitors at its automatic monitoring stations. The results will be presented in future air quality reports.
To find out where air quality monitoring is being carried out in Calderdale, please see: Environmental map.
National air quality forecasting
The Government provides a national daily air quality forecast that covers all the UK.
Useful links